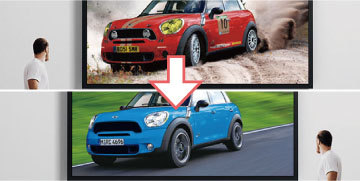 ①Technical Overview | Product Specifications
The gimmick of changing the viewing angle of the bellows fold to create a different design has been around for a long time.
(Example)

BELLOWS PRINT is a printing technology that reproduces the above bellows gimmick in the microscopic world, and is a patented product that uses special data processing that can be achieved by printing with layers of UV-curable ink.
In recent years, with the advent of UV printers, 2.5D (thick) printing has become easier, and BELLOWS PRINT was born.
Thick printing, which creates an uneven surface by printing with multiple layers of UV ink that hardens instantly when exposed to UV light.

Use a UV-curable printer that prints by curing liquid ink.
Since this is a sign and display product, it is necessary to use a 2D flatbed printer instead of a 3D printer which has a slower production speed. However, it was difficult to establish production with 2D flatbed printers because the print head could not move in the height direction and there were limitations in the ability to process different layers of data.SO-KEN has developed a special data creation method to overcome the aforementioned issues and has succeeded in establishing BELLOWS PRINT production.
Complete with inkjet printing only. Printing technology using multilayer

This is a printing technology that reproduces the above bellows gimmick in the microscopic world by layering inkjet UV ink.
Ink specifications and weather resistance
MIMAKI - Genuine UV curable ink CMYKW
Weather resistance

Weather resistance test conditions
ISO11341 1
Irradiance
60w/ ㎡ Permanent irradiation
Black panel temperature
65
Test chamber temperature
38
Relative humidity
70%
Equivalent to 1 year = 500 hours (reference value)
Shower every 2 hours for 18 minutes
②Notes on installation and use
How it looks depending on the structure
The surface has regular unevenness. The two types of patterns printed on the bottom are thinned out and the convexity is used to adjust the visible area.

How it looks from the left side / How it looks from the front (the left and right patterns appear to be mixed) / How it looks from the right side

Frontal oblique view / Enlarged view
Visibility pattern
The two designs are interchangeable when viewed from certain angles.
View from the left side
It looks like a red design.
View from the front
It appears to be a mixture of both red and blue designs.
View from the right side
It looks like a blue design.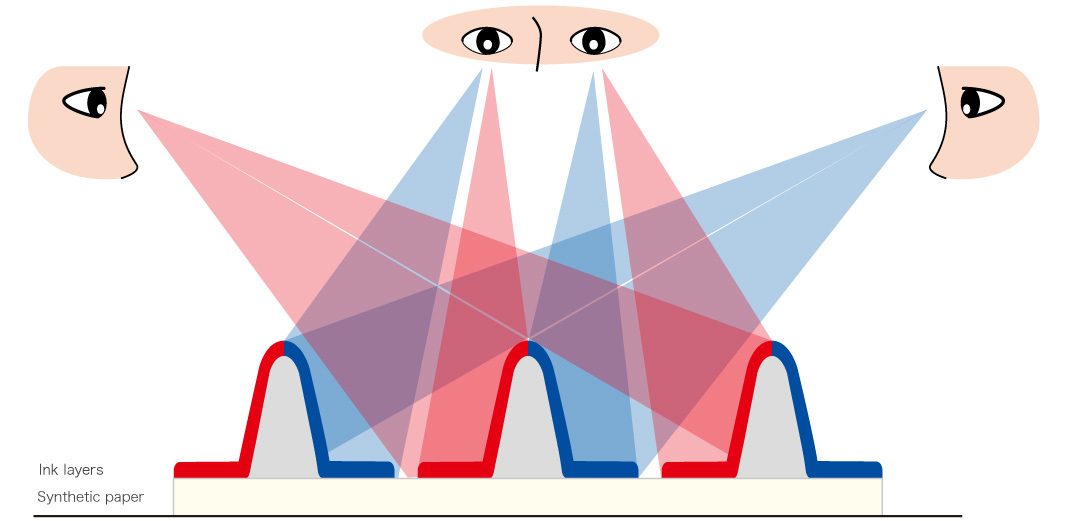 About angles
The angle at which you can almost see only one design is about 38°, and after 38°, the design overlaps with the other design, making a 5:5 ratio at the center.There will be an error depending on the color and design.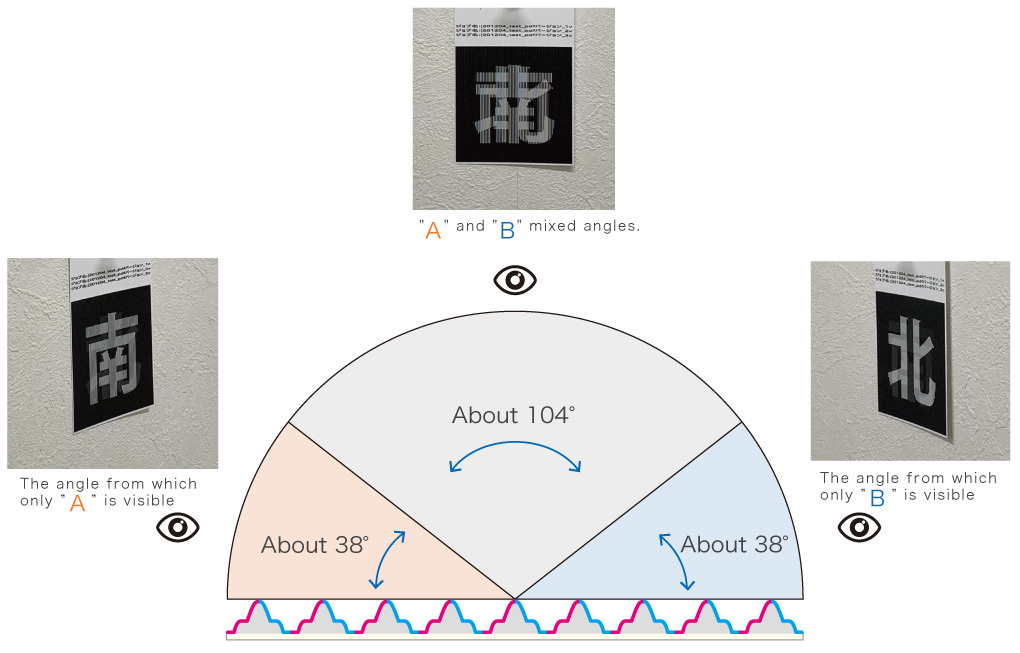 BELLOWS PRINT angle (normal type)
There is also an acute angle type that can only be seen from a certain angle. This is ideal for expressions that synchronize with movement (synchronized art) or for making it difficult to find the answer to a quiz.
BELLOWS PRINT angle (acute angle type)
③About Triggers
Types of triggers for changing the design of BELLOWS PRINT
Trigger (1)
Just change the viewing angle from left to right.

Trigger (2)
It switches between going and coming.

Trigger (3)
peer in from below (acute angle type)